Whitefriars glass for sale in the UK today can be found in a great many places. These include both online and offline. Much will depend of course on the type and from which era you preferred. Someone new to collecting Whitefriars will be more than likely searching out different items than those who are seasoned and more selective.
The great thing about collecting attractive items is the amount of items available for sale to collectors. Not like some other areas where items become scarce very quickly due to the high numbers joining in the hunt.
What we need to bear in mind is that items were produced at this glassworks for a long period of time. Nearly 150 years in fact, see Whitefriars Glass. 150 years provides a large range of styles to choose from for collectors. It allows them to concentrate on one or two eras only if they so wished.
Examples are available that will suit those interested in Victoriana, Arts and Crafts, Art Deco, Mid Century Modern and Studio Glass.
Whitefriars Glass Prices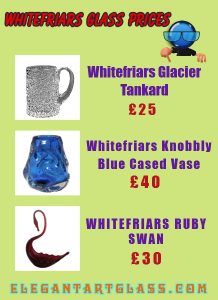 The prices of Whitefriars glass for sale took a leap in 1996 due to the publication of the two informational Whitefriars books. That and the Manchester City Art Galleries exhibition. They were all announced with the usual press releases that reached out to educate not only the collecting community but also the general public.
Now armed with this new information people were checking out their ornaments and drinking sets used in their home. Even storage boxed containing passed down items from relatives were being checked. Checked to see if they contained any of examples made by Powell & co the owners of Whitefriars.
Yes I purchased both books as soon as they came out as well as visiting the exhibition in Manchester. The Lesley Jackdson version is still to be found quite easily although the main version by Wendy Evans , Catherine Ross and Alex Werner is more difficult to find.
The, Whitefriars Glass James Powell and Sons: Glassmakers of Whitefriars 1834-1980 version is the bible on this type of glass. At the time of writing there is a copy available on Amazon at the above link.
Being known locally as a collector of antique and vintage glassware, many times I was approached by people asking if the piece they owned was made by Whitefriars.
Those still having an original label were obviously the most helpful in identification. Although not always the most interesting to the more experienced and choosy collector. Some funny examples would be brought to me to examine such as colourful pressed glass items which of course was never produced by Powell.
I found that for those individuals who did some of their own research, the greater the chance of the piece actually being authentic. Certainly with the pieces I was asked about. Nevertheless, those same pieces were always there in the home without much interest given to them for years prior to this rise in interest.
You know what they say about an ill wind! It was good for those luckily enough to unearth a real prize and receive an honest price for it. It put these items out into the market which the avid collector could eagerly snap up.
For years collectors had previously been happily picking up examples at really cheap prices. The downside of this exposure was fiercer competition which resulted in higher Whiteriars glass prices.
Whitefriars Glass for Sale at Auction
Visiting general auction rooms used to be a great place for picking up a good selection of pieces and at reasonable prices. Not so good today. As the amount of Whitefriars glass for sale at auction houses has gradually decreased over the years. Especially so, the more collectable items which can be pricey when they do crop up.
This is just par for the course and at least pieces could be handled and personally inspected for any damage. It can be time consuming and very disappointing when there is nothing of interest for auction that day.
Many of these auctioneers will help by letting you know when they are expecting pieces in the saleroom, to suit your collection tastes.
Whitefriars Glass For Sale In UK eBay
Using online auctions and using a search term such as Whitefriars Glass for sale UK can be an option. Although some purchases can cause a lot of disappointment and hassle when items are not described properly. Trawling through them can be tedious. Especially when you have to review each item in turn to check condition and the sellers terms of sale.
Life could be made much easier if there were separate categories for perfect items and those with damage. What would also help is a prominent star rating system, seen prior to clicking through to the item. Good ratings could be given to sellers who historically provide accurate descriptions and a clear sensible returns policy.
Prices of collectables always fluctuate depending on demand. Even the coveted Banjo Vases produced in the later years by the company have become a little more affordable recently. Certainly for the more common colours with prices ranging from around the £1000 to £1500 mark or even as low as £750.
Other textured pieces by Geoff Baxter are still much the same price with the larger less common pieces costing more. Smaller textured versions and much of the more reasonably priced examples would be great for anyone beginning a collection.
Rarer Arts and Crafts Whitefriars on Sale
The earlier Harry Powell glass when found for sale are as you might expect more expensive. Especially the in straw opal, threaded pieces and anything with metal mounts, (not just silver).
Not surprising as they seldom appear nowadays in provincial salerooms. Specialist fairs and the larger auction rooms are the best places to find items on sale from this era.
Single wine glasses with Roman style shallow cutting and poppy head versions can still turn up and are not always recognised as being made by Whitefriars.
As with anything else, educating yourself to recognize the important points about anything you want to collect is important. In fact. if you would like to learn more about Whitefriars glass of James Powell to Geoff Baxter click here.
Once you have learned more about your chosen collecting field. then who knows what Whitefriars glass for sale you might come across. Happy shopping.